Dear readers,
'Building Back Better'. That slogan provides a positive perspective for when the pandemic is over. It also expresses the confidence that societies are capable of making conscious choices for positive change and of putting those choices into practice. In line with our mission 'Building Better Futures, by strengthening democratic local government worldwide', VNG International wants to contribute to that positive change.
Through our projects in more than 30 countries, we help build better lives for people by supporting their efforts to improve the governance capacity of their communities. We help local governments develop their capacity to provide basic services for a safe, healthy and clean living environment, to create a space for active citizenship, to build social cohesion and promote local economic development, to raise the local taxes necessary to make all this possible, and to be accountable for the spending of those local resources. And in doing so, to strengthen the mutual confidence between local governments and their citizens.
In the past year we have had to adapt, like everyone, to very new circumstances. With the necessary and creative changes to the design and planning of projects in close cooperation with our partners, with the help of online technology and the great dedication of our local and international staff, and with flexibility from our clients, we managed to keep our projects on track. And financially, we managed to stay in the black. This gives us and our various stakeholders confidence to move forward together.
We have also been very successful in acquiring new assignments/contracts: an EU-assignment to support the Czech government in developing a 'smart city' strategy; three assignments in DRC, all on the promotion of local security; an assignment to strengthen the civil society contribution to resilience on Sint Maarten; a project in Somalia to strengthen the social contract between government and citizens through enhanced risk management; and a large assignment to improve the access for disabled people to public spaces in 6 African countries. Smaller assignments were won in Armenia, Ghana and Turkey. And last but not least,
we highly appreciate the recognition of the added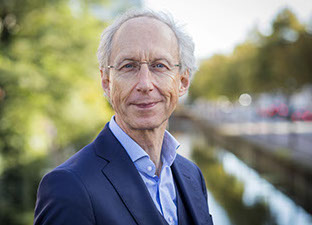 value of our work, expressed by the decision of
Ms. Sigrid Kaag, the Dutch minister for Foreign Trade and Development Cooperation, to continue the cooperation with VNG International from January 2022 in a comprehensive programme for the next 5 years.
Being part of the global network of local governments remains a source of inspiration. In the Netherlands, we passed the milestone of 100 Dutch municipalities participating in our 'Municipalities4GlobalGoals' campaign, and despite the challenges at home, a core group of municipalities continued to provide relevant expertise for our projects. At the European and global levels, we managed to maintain important exchanges and cooperation in CEMR/Platforma and UCLG.
All these positive developments underpin the multi-annual strategy that VNG International developed in 2020, with a very active involvement of the team and other stakeholders. My team and I look forward to continuing and deepening our collaboration with many of you, working in and for local governments worldwide, donors, consortium partners and experts, inspiring each other with the aim of 'Building Better Futures'.
Peter Knip
Director VNG International
MAY 2021